Association of Nursing Service Administrators of the Philippines (ANSAP)
Association of Nursing Service Administrators of the Philippines (ANSAP)
The Association of Nursing Service Administrators of the Philippines (ANSAP) is a duly-recognized (accredited) Continuing Professional Education (CPE) provider by the Professional Regulation Commission – Board of Nursing (PRC-BON) and specialty organization of the Philippine Nurses Association (PNA).
ANSAP is the ONLY nursing organization mandated to administer and accredit basic IVT training for registered nurses.
(Admin note: Read the Intravenous Therapy (IVT) Training General Information to know more about IVT training.)
Mission:
Advocate models in leadership skills to transform nursing leaders to become working enzymes.
Respond elegantly (with precision, neatness and simplicity) to change and development in nursing leadership.
Ensure the sustainability and viability of the Association.
Vision:
A cohesive, pro-active professional association committed to excellence in nursing.
ANSAP Membership:
Qualification – Registered Nurses who or are currently occupying administrative/managerial positions in government or private health care facilities.
ANSAP Membership Requirements:
Previous membership card (for old member)
Certificate of Employment (for new member)
Photocopy of PRC license
2 pcs. 2×2 recent pictures (white background)
PhP 400 processing fee
ANSAP Membership Types:
Regular member – with an appointment to hold her/his present administrative position.
Life member – Must have been a regular member for 5 consecutive years.
Honorary member – A respected member of the community who has rendered meritorious contribution to the Association.
Association of Nursing Service Administrators of the Philippines (ANSAP)
Room 4011, 4th Floor
Lung Center of the Philippines
Diliman, Quezon City
Telephone Numbers: (02) 497-8071; (02) 924-6101 to 20 (LCP trunkline)
D. Jose corner Diamond Street, Tandang Sora, Quezon City
IVT Training hotline: 02-6226613
Website: http://ansapinc.com/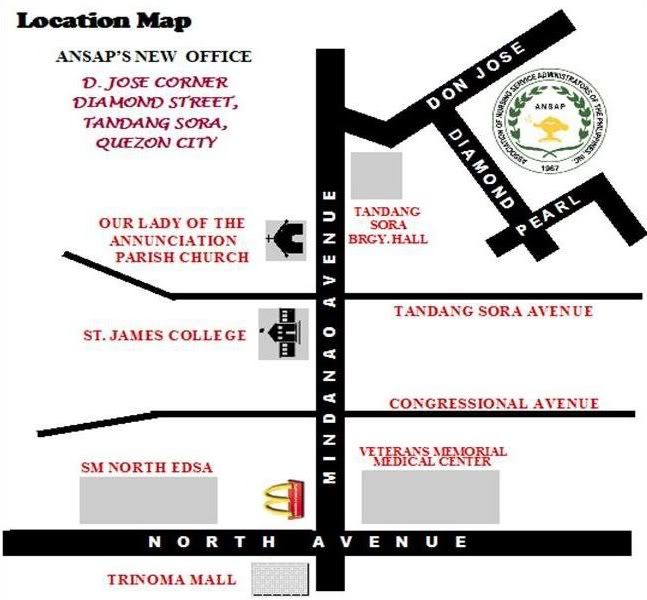 DOCUMENTS:
1. ANSAP Advisory on IVT Training (April 8, 2011)
2. ANSAP's Position on the Certification Process in the Country for Safe and Quality Nursing Practice (April 27, 2011)
Use of Information Policy: All content provided on this website is for informational purposes only. The administrator of this website makes no representations as to the accuracy or completeness of any information on this website or found by following any link on this website. The administrator will not be liable for any errors or omissions in this information nor for the availability of this information and for any losses, injuries, or damages from the display or use of this information.

Disclaimer: Comments posted in this website are those of the readers and do not necessarily reflect the position of PND. PND does not knowingly publish false information and may not be held liable for the views of readers exercising their right to free expression.