UP Manila National Telehealth Center eHealth Training for Educators of the Health Professions on April 2 – 4, 2012
The UP Manila National Telehealth Center (UPM–NThC)
eHealth Training for Educators of the Health Professions
Date: April 2 – 4, 2012
Time: 8:00 am – 5:00 pm
Venue:
NATIONAL TELEHEALTH CENTER University of the Philippines Manila 3rd
Floor Information Technology Complex, Dietary Building, Philippine
General Hospital Compound, Taft Avenue, Ermita, Manila 1000
REGISTRATION FEE: 7,500 PHP
MORE INFORMATION:
You can bring down the cost to as low as 50% by availing these group rates:
3-4 pax Php 7,000.00/pax
5-6 pax Php 6,500.00/pax
7-8 pax Php 6,000.00/pax
9-10 pax Php 5,500.00/pax
11-12 pax Php 5,000.00/pax
13-14 pax Php 4,500.00/pax
15-17 pax Php 4,000.00/pax
18-20** Php 3,500.00/pax
Register at: http://one.telehealth.ph/beta/seminarstrainings/eht/
The training is equivalent to 19.5 Continuing Professional Education (CPE) Units
CONTACT INFORMATION:
Contact Person: Aliyah Lou Evangelista
E-Mail: admin@info.telehealth.ph
Landline: +5256501
Mobile: +63 906 4318398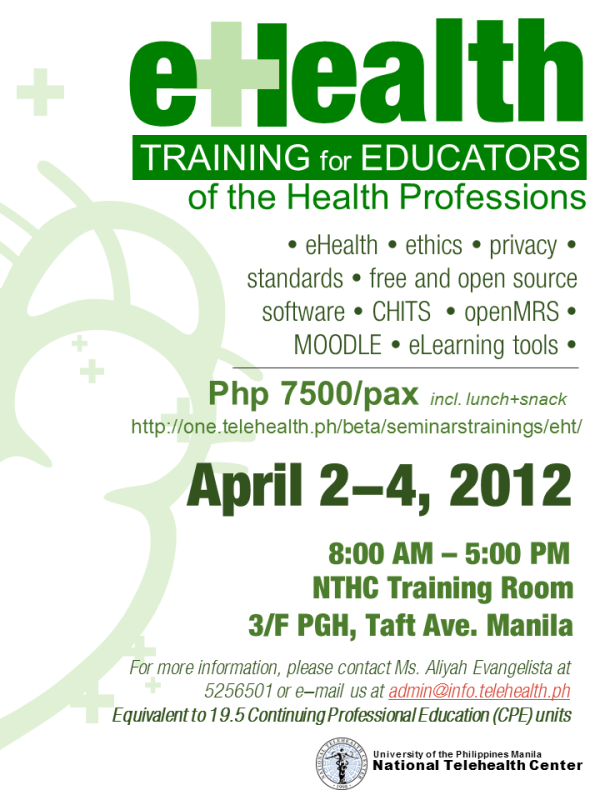 Use of Information Policy: All content provided on this website is for informational purposes only. The administrator of this website makes no representations as to the accuracy or completeness of any information on this website or found by following any link on this website. The administrator will not be liable for any errors or omissions in this information nor for the availability of this information and for any losses, injuries, or damages from the display or use of this information.

Disclaimer: Comments posted in this website are those of the readers and do not necessarily reflect the position of PND. PND does not knowingly publish false information and may not be held liable for the views of readers exercising their right to free expression.