UP Manila National Telehealth Center eHealth Seminar on October 8, 2011
The UP Manila National Telehealth Center (UPM–NThC)
eHealth Seminar (formerly Seminar on Health Informatics)
Date: October 8, 2011
Time: 8:00 am – 5:00 pm
Venue: National Telehealth Center Training Room, 3rd Floor, Philippine General Hospital
This seminar is one-day learning activity that aims to:
introduce you to various e-Health initiatives in the Philippines led by the NTHC;
give an you an overview of the principles of the ethical, safe and effective practice and implementation of e-Heath; and
open you to a whole new spectrum of career opportunity in health informatics.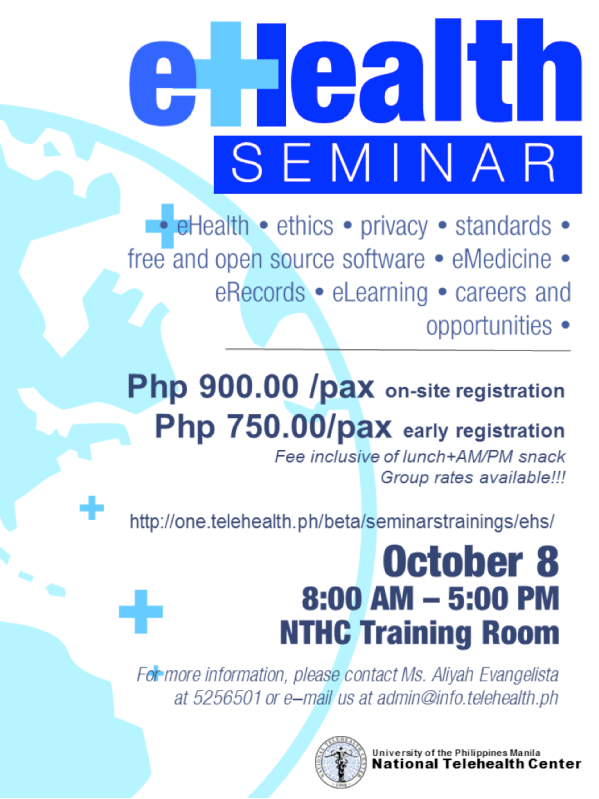 To register online, go to: http://one.telehealth.ph/beta/seminarstrainings/ehs/
Avail of their early registration which only costs 750 pesos.
If you are coming as a group, discounts are available:
Groups of 3-9: less Php 50.00
Groups of 10 or more: less Php 100.00
On the seminar date, they will be giving away freebies of eHealth resources such as CDs, booklets, and many more straight from the International Open Source Network-UNDP Asia-Pacific Development Information Programme.
Use of Information Policy: All content provided on this website is for informational purposes only. The administrator of this website makes no representations as to the accuracy or completeness of any information on this website or found by following any link on this website. The administrator will not be liable for any errors or omissions in this information nor for the availability of this information and for any losses, injuries, or damages from the display or use of this information.

Disclaimer: Comments posted in this website are those of the readers and do not necessarily reflect the position of PND. PND does not knowingly publish false information and may not be held liable for the views of readers exercising their right to free expression.