PNA 89th Foundation Anniversary, 54th Nurses Week Celebration, 2011 Annual National Convention
Philippine Nurses Association, Inc. (PNA)
89th Foundation Anniversary
54th Nurses' Week Celebration
2011 National Annual Convention
Theme: "Filipino Nurses Driving Access, Quality and Health"
Venue: Waterfront Hotel and Casino, Cebu City
Date: October 23 – 27, 2011
Registration Fees:
Php 4,500 (before May 31, 2011)
Php 5,000 (June 1 – September 30, 2011)
Php 6,000 (October 1 – 24, 2011)
Php 2,500 Daily Registration (subject to seats availability, inclusive of food and Certificate of Attendance for that specific date but without Kit)
How to Register:
1. Fill-out the registration form: http://www.facebook.com/photo.php?fbid=148297748574549&set=o.181576888540338&type=1&ref=nf
2. Deposit your registration fee to
Account Name: Philippine Nurses Association, Inc.
Current Account Number: 00-202-831761-4
Name of Bank: PHILIPPINE NATIONAL BANK Paco Branch, Manila
3. Send your deposit slip and filled-out registration form to the PNA National Office via facsimile no. (02) 525-1596 or to the Convention Secretariat:
Mobile Numbers: 0917-3205734; 0922-8447815
Email Address: PNA.NATCON@gmail.com; rl_fermo@hotmail.com; PNACEBU@ymail.com;
Cebu City Address: Room 312 Doña Luisa Building Fuente Osmeña, 6000
Telefax no.: (032) 254-7454; Mobile No.: 0922-8479479
Or you may also register personally at the:
PNA National Office
1663 F.T. Benitez Street, Malate, Manila
Tel. Nos. 400-4430, 521-0937, 536-1888
Telefax no. 525-1596
E-mail address: philippinenursesassociation@yahoo.com.ph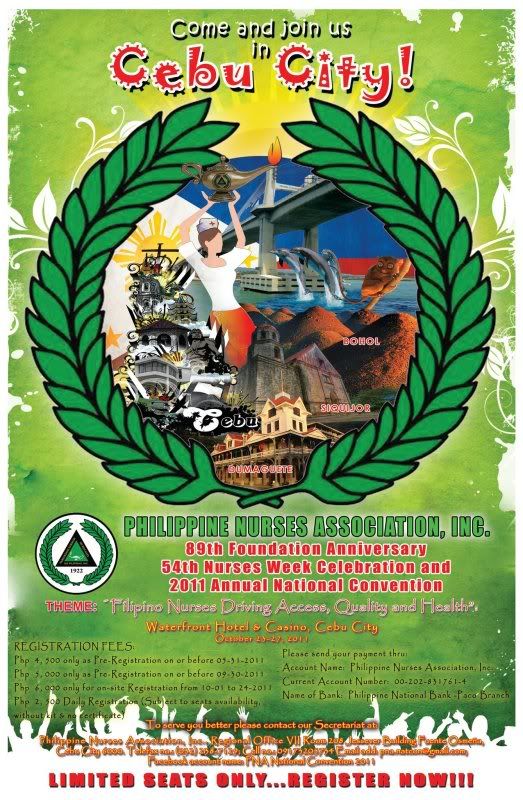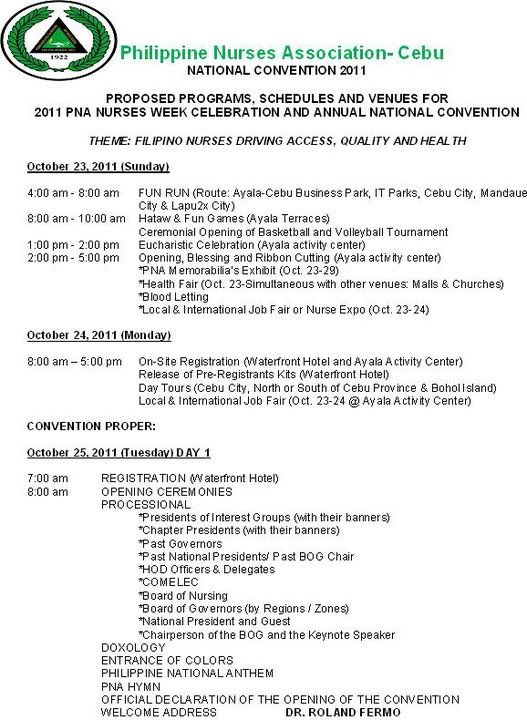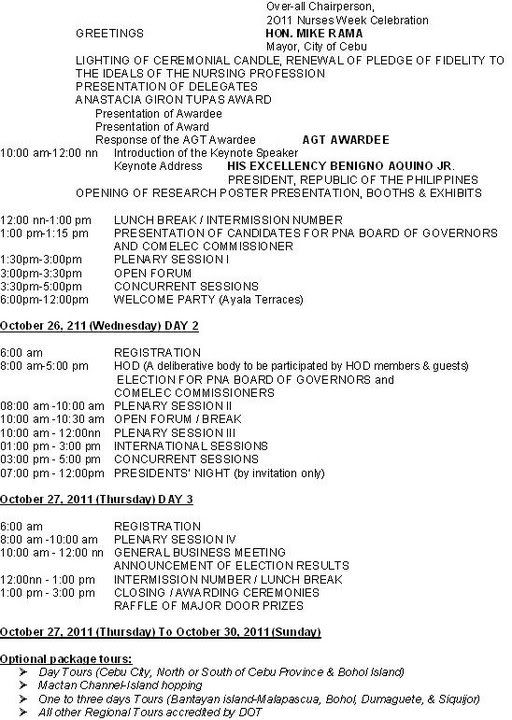 Sources: http://www.pna-ph.org; http://www.facebook.com/pages/PNA-National-Convention-2011-CEBU/121503994587258
Use of Information Policy: All content provided on this website is for informational purposes only. The administrator of this website makes no representations as to the accuracy or completeness of any information on this website or found by following any link on this website. The administrator will not be liable for any errors or omissions in this information nor for the availability of this information and for any losses, injuries, or damages from the display or use of this information.

Disclaimer: Comments posted in this website are those of the readers and do not necessarily reflect the position of PND. PND does not knowingly publish false information and may not be held liable for the views of readers exercising their right to free expression.